Happily Married!
These two words are taking a course through my veins now that I am drafting them here. Happily married although sounds like a hope that people long to acquire, the truth is, a successful marriage isn't that hard to accomplish. All that you need is a little attention and oodles of patience. Without patience, not only marriage, none of the relations can withstand.
It takes courage to make any relationship work and a little bit of craziness. From time to time make sure to spend time together, plan dinner, hang out in places that you have a special connection with, discover locations that you haven't explored before, remember the special dates, and lastly, present goodies now and again.
The excitement that a gift can shower is something we humans can only reason to perceive, so yes, gifts are one the best way to connect with people. Gift whether it is on birthdays, weddings, anniversaries, family functions, or any festivities can jolly up the occasion and bring them closer. Henceforth, whenever a celebration is around the corner, make sure to acquire goodies to present to your friends, families, and most importantly to your partner.
Coming to the goodies, what is your plan for this anniversary? Have you decided yet what to present to your only forever after? If not, I am presenting you the uttermost thoughtful present that will light up his/her face- Personalized handmade paintings, either digital painting or a traditional form of painting.
Where to acquire the most handsome handcrafted painting?
If you have never heard of digital painting, let me explain here in brief for you to make a painless decision. In contrast to popular belief, digital painting is totally handcrafted and quite comparable to the old way, with the exception that an artist uses a computer (graphic tablet) and digital pen (stylus pen). The artist who fashions digital painting has to undergo intense training and practice the same way a traditional artist does and like pencil sketch is the means of every beginning for the person who loves art, a digital artist falls under the same category. Therefore, a digital craftsperson is not in any approach inferior to any other artist. If I have been able to convince you then let's see the collection we have in digital painting: "Photo to art", "Photos to merge art", "Old image to art", and "Caricature".
Choose any of the above embodiments and our artist at Buttistore will engrave your dreams, ideas, and your vision in the painting and transmute them into reality.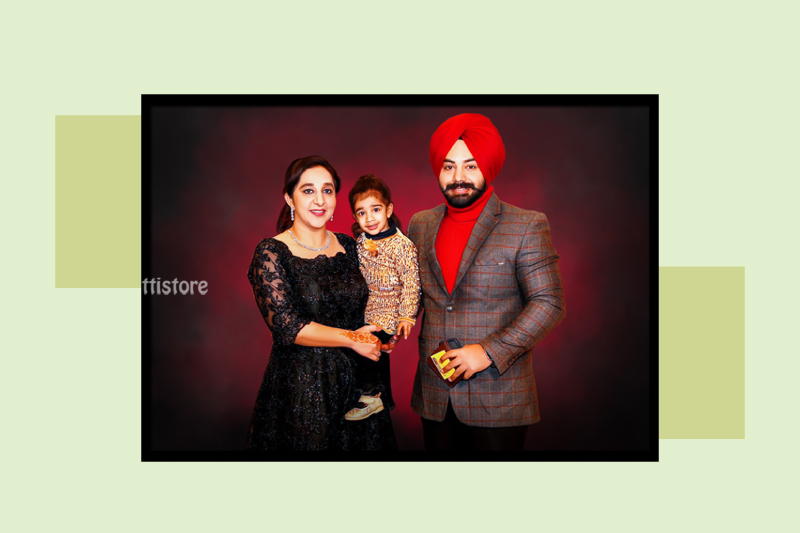 Other than the digital paintings, you can also obtain traditional handmade painting and pencil sketches, which are also personalized according to the photograph you provide us. You can also club 100-200 of your photographs with the mosaic frame we have in store.
So, why wait any longer? Order this personalized digital painting or traditional painting online for your next anniversary and surprise your beloved at the best cost available online. There is no other website with artworks at such an affordable price presented with detailed attention our artists perceive and carve it into existence. Be ready to be bewildered by the outcome this painting will bring to your home and your face. The painting will be professionally framed from our end and delivered to your home free of charge.
Get to know our brand
Buttistore is a place where you will find love and compassion towards aboriginal handcrafted paintings. It is said that "Painting is a silent poetry" and our artists have excelled in composing one. It is thus a home to personalized digital and handmade paintings that you can acquire or send to friends and family on any occasion. Whatever be the occasion, you can order from us and it will be delivered to your doorstep for free. There is no other place where you will get the personal touch that you will achieve here.
Take a peek at our collection online so that it can help you decide on your choice.
If you like our blog, you can also read our words published on blogging websites such as Medium and Blogspot.