From growing up with our Parents to frolicking around in an amusement park to attending annual functions with our mates to attending university to having a kid of our own, who doesn't like to preserve their memories?
Legends say that It is memories that make an individual a human being. Without memories, a person becomes a working machine rather than a living being.
What's more, is that, how do we preserve these golden moments? All the moments we cherish can't just be kept in our minds, isn't it?
It is a dire need for everyone to see those golden memories come to life. And with the available technology with mankind, all we can do is store in the store them in the form of photographs or videos.
Understandably, Artificial Intelligence can revolutionize the way how we preserve our memories, but there's no news of it till now, is there?
A problem arises is where do we store all these memories in a synchronized manner? How do we keep all these photographs of ours in a single place?
This is where Buttistore comes to your aid with the exclusive mosaic photo frame.
Buttistore's mosaic photo frame is a compilation of all the greatest photos from the vault, with one master image. The mosaic photo frame is a digital design that will be personalized completely on customer feedback.
As a result of which, it can be claimed as a high-value gift for you and all your loved ones in your memories.
How do you bring it to life?
Buttistore has made the job much easier as a retailer of mosaic photo frames online.
Instead of searching for a way to collect all your memories (photographs to be precise) in one place, then provide it to your preferred mosaic photo frame online retailer, then undergo all those final stereotypical technicalities to get it delivered to your home, all you need to do is search Buttistore's Mosaic Photo Frame in Google and your job's done!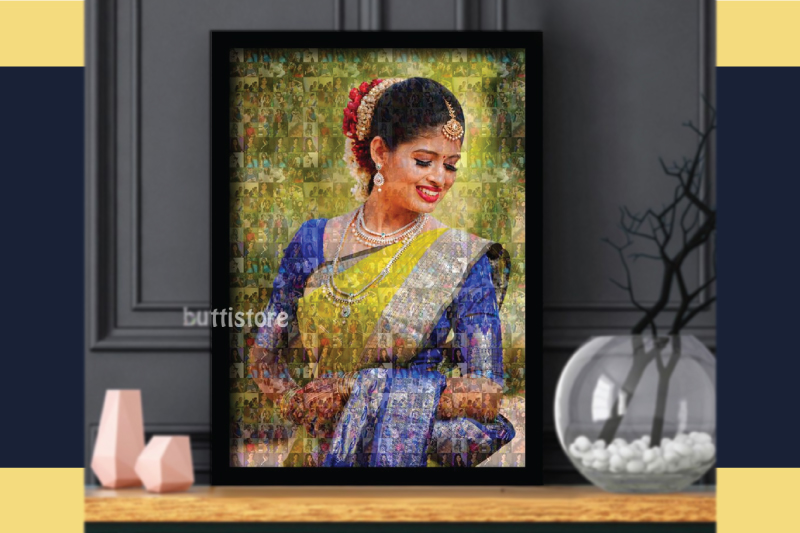 Upload all of the photographs to a folder on Google Drive, DropBox, or another service. When ordering, copy and paste the same link.
If you happen to have any sales questions, please contact our sales team. The greatest results may be obtained by combining 30 to 100 photos and one master image. The project will then be handled with attention by our skilled designers.
To increase the number of images in the collage, the designer repeats the images. And  To protect your treasured items, we utilize high-quality bubble wrap and robust corrugated boxes.
We thrive to think that the pleasure of our consumers contributes to the success of our company.
Your privacy is also important to us. As a result, we never publicly post your orders without your consent.
The Learning Outcome
Too many memories crammed into a single mosaic frame, that's what Buttistore thrives to do. The frame contains all of the greatest images from the vault as well as one master image. How cool is that?!
It is produced on quality vinyl with matte lamination after the preview and customer approval.  And The frame is made of black molded plastic.
All your cherished moments in one single place, that's made into a picture of you, your loved ones, or maybe an element of surprise that you may not have anticipated in the beginning.
That's what Buttistore does best. We satisfy your desire to look at all your memories in one single place by astonishing you with a mosaic photo frame of your you and your golden moments of life.
The Mosaic Photo frame is available in 5 different sizes, A0, A1, A2, A3, and A4, and can be incorporated into two different frame types, one being the evergreen standard black frame and the other being the classic brown frame.
And just to clarify, we will not proceed with the order until we have received your approval.
To know more about us and the services/products we offer visit www.buttistore.com