I still glance and adore the pictures of those adolescent days my mom and dad had preserved in the plastic albums back at home. It is one of the classic ways to keep a remembrance of your memories and yes, it does last longer than it looks to be. My holiday elapses with the wink of my eyes perceiving these photographs that reminds me of the days of excitement and enjoyment which cannot be brought back to this universe no matter how hard I try. What I can do is preserve those memories with my parents most charmingly and uniquely, so that when I look back at it, I can seek the love these pictures have stored in it for me. The only problem with albums is, years later it might be destroyed or pictures might be burnt and of course not to forget, the album is just like a book and we notice them only when it is sought after.
How about making a collage of all the photographs and framing in one painting? Exemplary right! Because if I am not wrong, an album can hold not more than 50-60 pictures, hence, you can get up to 100 pictures clubbed with the "Mosaic frame" and more importantly, it will live longer than we humans do. This way your children and your grandchildren will also get the chance to have a taste of the tradition you followed.
What is a Mosaic frame?
If you have a baby, I can only imagine the excitement and the happiness you are experiencing, but yes, I can speculate the number of snaps you and your baby are arresting in your phones and not to mention post-baby photography that is trending in today's modern world. Am I wrong to say that you will be framing a few of the pictures? I heard you say yes.
Since you are already planning to get some of the pictures framed, why not do it in a unique way where you can club more than hundreds of your pictures.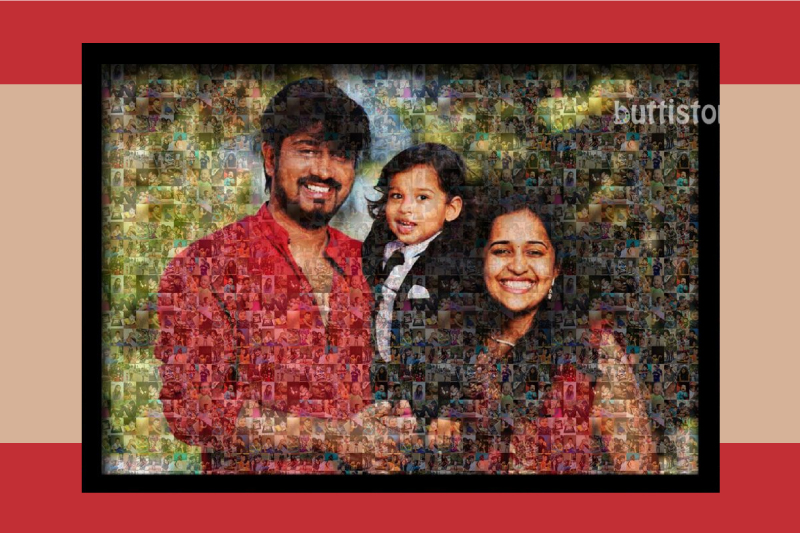 A mosaic frame is an intermediate where you can club up to 100 pictures of yours in one frame.  The artists use a computer and an application to accomplish this. Another admirable feature of this mastery is the grand picture that will shine among the tiny pool of pictures. Therefore, for this one, choose the picture that can stand out in the crowd of teeny ones.
And yes, sending us the photographs is extremely easy, all you have to do is send us the link to the drive where you have stored the pictures.
Now that you know the most elegant way to store your baby's slanting and cute poses, why wait further! Order your personalized Mosaic frame with Buttistore and forever imprison your moments.
Still have doubts! Let me walk you through our brand once.
The Brand
To introduce us, I would like to quote Sarah Ban Breathnach here first, "The world needs dreamers and the world needs doers. But above all, the world needs dreamers who do."
We are the dreamers that transform views, ideas, and visuals into action. Whatever you desire, whether it be restoring your photographs, reconstructing pictures, or merging multiple of them, we will translate them into a frame. We have expert apprentices who are trained and have excelled in creating the perfect memento for people with dreams in their eyes.
Apart from the "Mosaic frame", we also have a collection of personalized digital painting and traditional painting, therefore you can choose any of them to frame your memories. We also have many exciting offers that will knock your socks off. If you are convinced, please do visit our products section to know more about our available paintings and extraordinary offers.