If you are looking for gifts for someone close and special, personalised gifts are a great idea. And if you are further looking for something that is a bit more intimate and different, pencil sketches perfectly fit the bill. It is a gift that the recipient can never except but rather feel thrilled to receive.
Pencil sketches are a timeless piece of art that stands out without the use of many colors. They instantly grab the attention of people and help to capture the essence of the subject. The sketches are mostly detailed in nature because they are made with the magic of pencil strokes.
Pencils are one of the most versatile drawing mediums because of the variety of marks that they help to make. Marks can be sleek and delicate or bold and vivid. A few bold strokes can help to seize movement, while tonal shading can define form. However, the ultimate piece of art depends upon the skill of the artist.
Now, if you are planning to give someone something that is out of the box and memorable, you can purchase handmade pencil sketch online at Buttistore.
Sketch the memories you love and cherish with Buttistore
Turn your favorite moments into handmade pencil sketches at Buttistore. We house a team of seasoned and skilled artists who know how to create artworks that brings magic into your home and life. Once you share with us your photo, our team gets to work and start sketching your masterpiece with the use of H2, 2B, 6B, and 9B pencils and charcoals. We share with you a preview, and once you give a go ahead, we move forward with the shipping process. Also, you don't have to worry about wasting your time on the framing. At Buttistore, we allow you to choose from multiple framing options.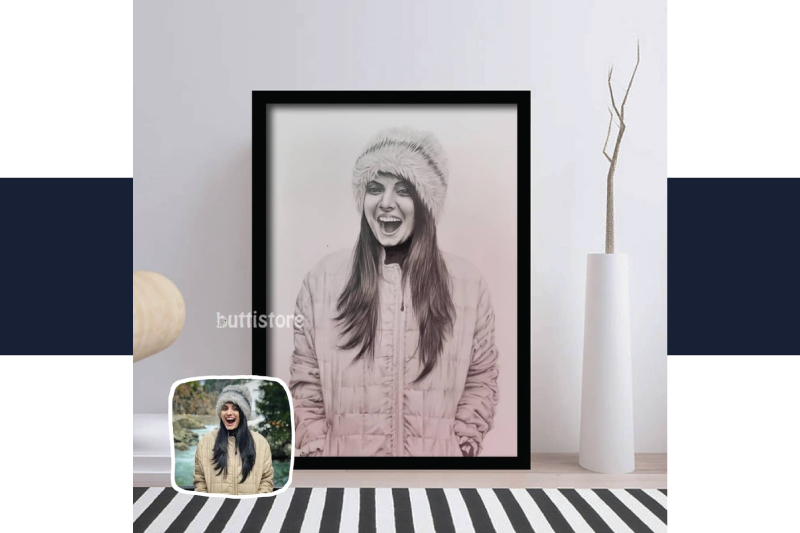 Our sketches are completely handmade and made on a high-quality canvas which not only serves as a great surface for sketching but also provides a long life to the sketches. We take utmost consideration in making sure that you are happy with the end results. No matter the occasion – anniversary, birthdays, Mother's Day or Father's Day – sketches can make way for enthralling gifts, bringing an instant smile to the beholder. What's more great is that with us, you can purchase handmade pencil sketch online instead of spending your time searching the street for the ideal store under the scorching heat. In the end, we would like to say our custom made sketches make way for a unique and noble gift.