'Sometimes you will never know the value of a moment until it becomes a memory.'
Gifting your favourite couple a snap from their memory lane, what else can be better than this? And a digital painting (online) is just 'the icing on the cake'.
Imagine the money invested in gifting your friends on their wedding does not land into a dustbin or hardly reaches the wardrobe with tonnes of other gifts that are stacked in there. Rather, they cherish and treasure your gift for the rest of their lifetime.  What can be a better gift than an online painting!
Gifting your loved ones a painting which not only adds a sense of emotion to your gift but an online  painting adds some modern quirkiness to it as well which they will adore and beautify their home with, the golden moments they celebrated would refresh the love between the two, whenever they see your gift.
Advantages of gifting an Online Painting:
Seeing a bigger picture– Shopping online always gives a bigger picture of the product that we are looking for, it gets easier to see samples and create an image of the outcome. There are lesser chances of flaws and more probable perfection. 
A go-to-stop– It helps us to pour out our ideas on the canvas as to what exactly we want to gift, a collage, a sketch and all the rest. It gets easier for us to find online store we're looking for. Well, it definitely is Buttistore provides us all the possible upshot we can imagine off.
Convenient–Online shopping is definitely the most convenient and most of the time is   pocket friendly too. It is easy for look for better alternatives as there are always some. All that has to be done is to select the photograph(s) that needs to be converted into a painting, the pictures of our friends are easily available to us and it just needs to be sent and, woah! The outcome Buttistore provides us is just flawless.
A gift full of emotions–An online painting is full of emotions and sentiment. Imagine after an argument your favourite couple just glanced at the painting of theirs which is brimming love and beautiful memories they will shortly forget the negativity around them and would dote on each other. What else can be better than this!
A multipurpose-present– A painting not only serves as an art work to beautify your with but also is a source of pouring emotions and affection. This helps in spreading positivity and happiness all over the place. Buttistore cares for the sentiments of the giver and the affection of the receiver. Buttistore provides a canvas painted with love and admiration.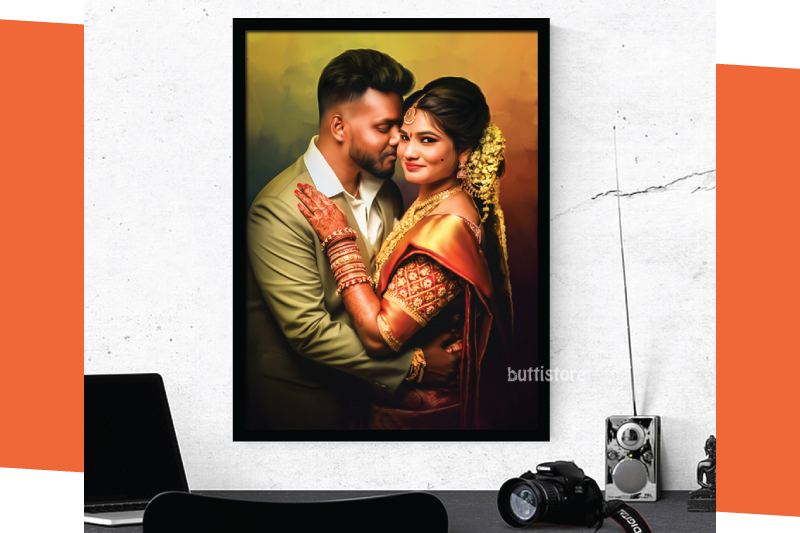 Importance of a valuable gift:
'The greatest gifts are not wrapped in paper but with love.'
A gift becomes more precious if it extends the love with which it was crafted and given. It becomes more like a treasure to keep safe and grow old admiring it. An online painting is much more durable along with being pocket friendly, than a photograph. Along the lines of paintings, a online painting is a modern origination of gift, what can be better than this to gift a couple!   Well, you're right! There can be nothing better than this.
So, what is stopping you from gifting the perfect gift to your favourite couple and there can never be a better place to craft it than the Buttistore.