Paintings have always enjoyed the status of the most popular form of art. With time, they have changed and evolved, all thanks to new technology and changing tastes. However, the one thing that remains the same is the beauty and allure of the handmade painting. A perfect blend of different colours, the painting exhibit a visual story that pulls the viewer and takes them on a journey.
With Buttistore, you can order handmade paintings online in India that are crafted from your precious moments. Our artwork shows a whole new level of the show a whole new level of vibrancy and liveliness. We use the perfect colour- combination, styling, ambience, and textures to bring your moments to life on a canvas. Once you share with us the photo, our artists get to work and choose the right colour theme to create a painting that captures the real essence and takes you right back to the moment.
Meticulously handcrafted, each piece of ours narrates your visual story and adds a splash of beauty and brilliance to your homes!
Bringing smiles to your face is what we strive for!
Personalization: For us, our customers are at the centre of everything we do. If you have a specific request in mind, we make sure to honour it in the right way. For instance, if you want to add a person or a pet to your painting, our artist does that with so much precision that no one would be able to find out the difference between the original photo and the painting made.
Luxury aesthetics: We create excellent quality, handmade, and effortlessly luxurious paintings that are bound to leave people spellbound. They are guaranteed to make your home look beautiful in the most simplistic ways. Each item will look fabulous wherever it is placed.
Preview: To make sure that you are absolutely satisfied with receiving your order, we share with you a preview as well. Once our artist is done with your painting, they share a preview via mail to get your feedback. If all is well, we move ahead and frame the painting with black moulds for a classic and posh look. The painting is delivered to you in a limited time frame in a secure and safe manner. However, if they are some transit damages, then we offer easy replacement.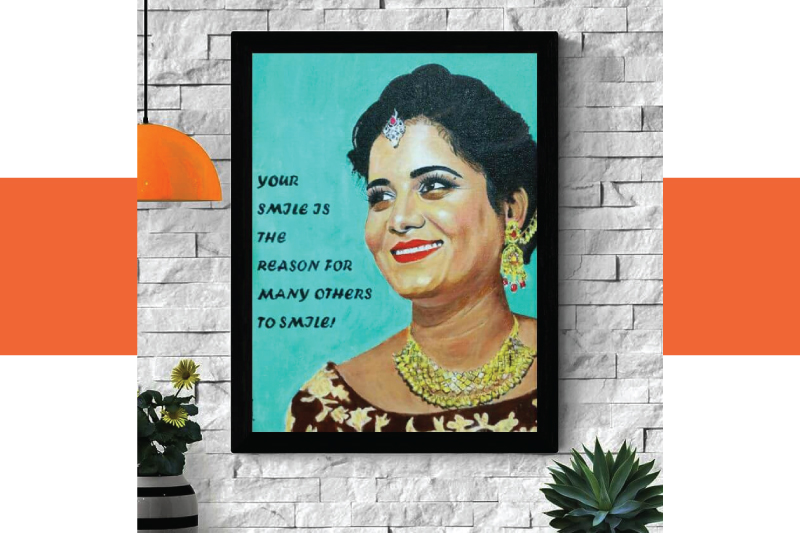 Perfect quality: The reason why you should order handmade paintings online from Buttistore is because of the remarkable quality our work offers. Resistant to water and sun, you can enjoy our artwork for a long time. Plus, made with acrylic colours, our work offers 100+ years of durability.
A gift for all occasions: No doubt handmade paintings make way for suitable gifts for all occasions. There is a meticulous and detailed design process involved in curating each product. So that when the receiver gets your gift, they feel nothing but blessed to be a part of your life.